We Will Keep Your Family Safe From Radon For Years
Our Quality Radon Meter Will Give You Confidence That Your Family Remains Protected From Radon
We provide a reliable radon meter to keep you informed. If our radon installation fails, you and I both want to know it immediately so that we can fix it immediately. This reliable meter will keep track of short and long term average radon levels day-by-day for months and years and will beep if our system needs repair or adjustment. (No batteries to go dead or corrode)
NOBODY else does it! . . . Nobody else has the confidence.
Are You Glad That We Do It?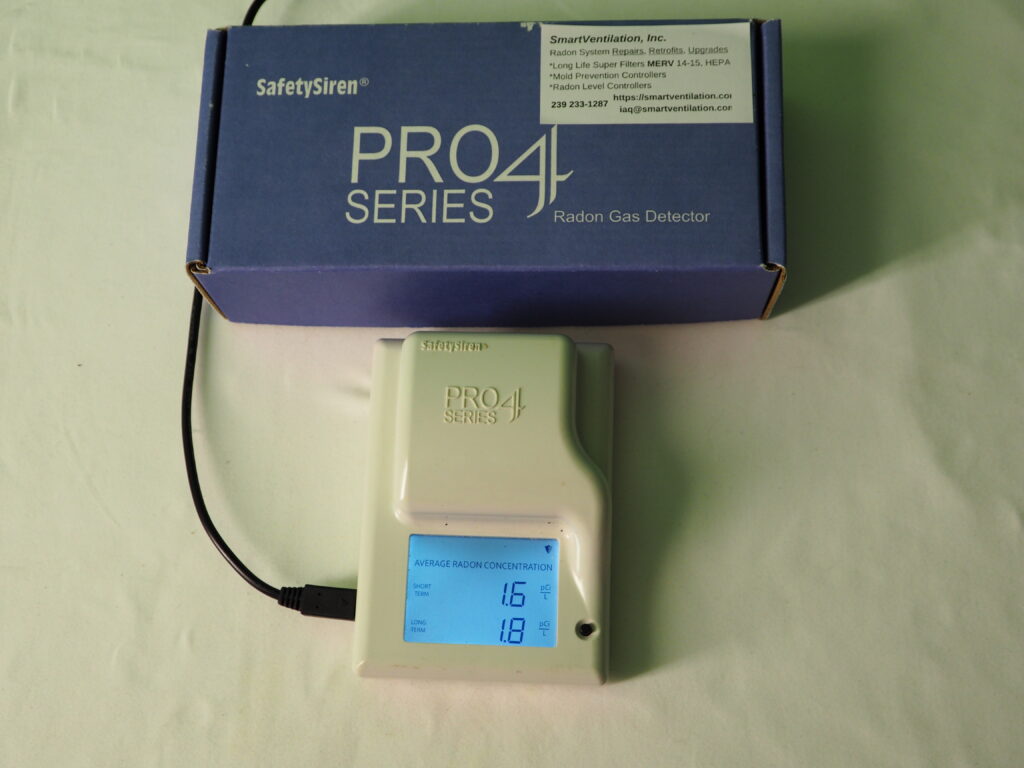 To our knowledge, SmartVentilation and RadonRESSQ stand out as the only radon folks who are bold enough to provide a radon meter so that you will know to call us for repairs, especially during the three-year warranty period when repairs are free. Does that tell you something about our commitment to your family's safety and our confidence in our work?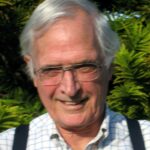 Your Family's Additional Protection From Outdoor Allergic and Toxic Particles Has Motivated Us To Develop Our Own High Performance Fresh Air Filtration System
We provide you with our Type III MERV 14-15 filter to remove the bad stuff from Your Fresh Air, almost like an N-95 face mask for your whole home. It is easy to exchange, good for 18-24 months, and often reachable from the ground so that you don't have to climb a ladder to reach it. 
NOBODY else did it! . . . Nobody else has taken the trouble and expense of developing a Super Filter System when they can just install a homemade filter
Are You Glad That We Did It?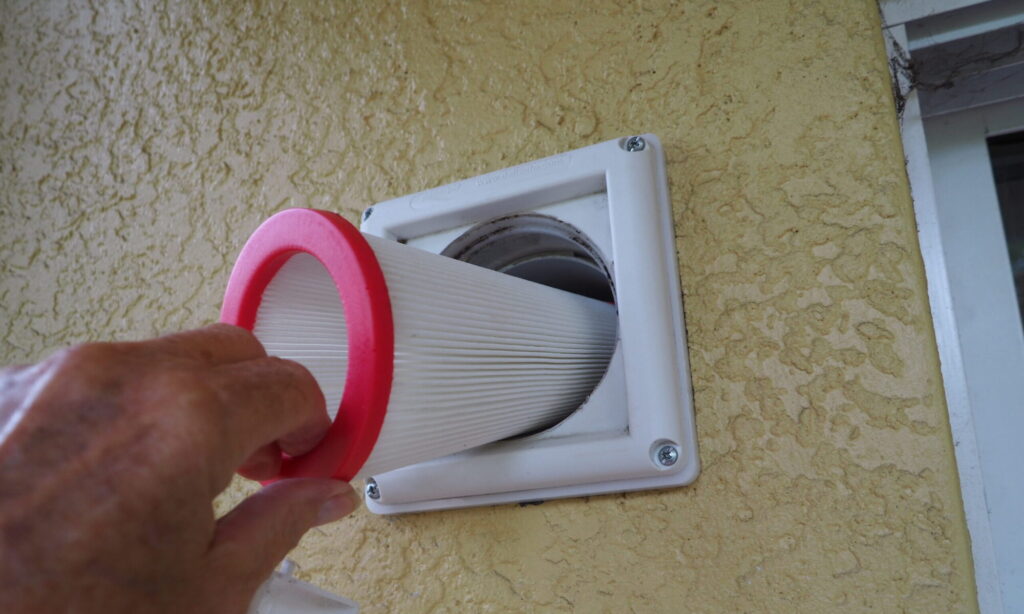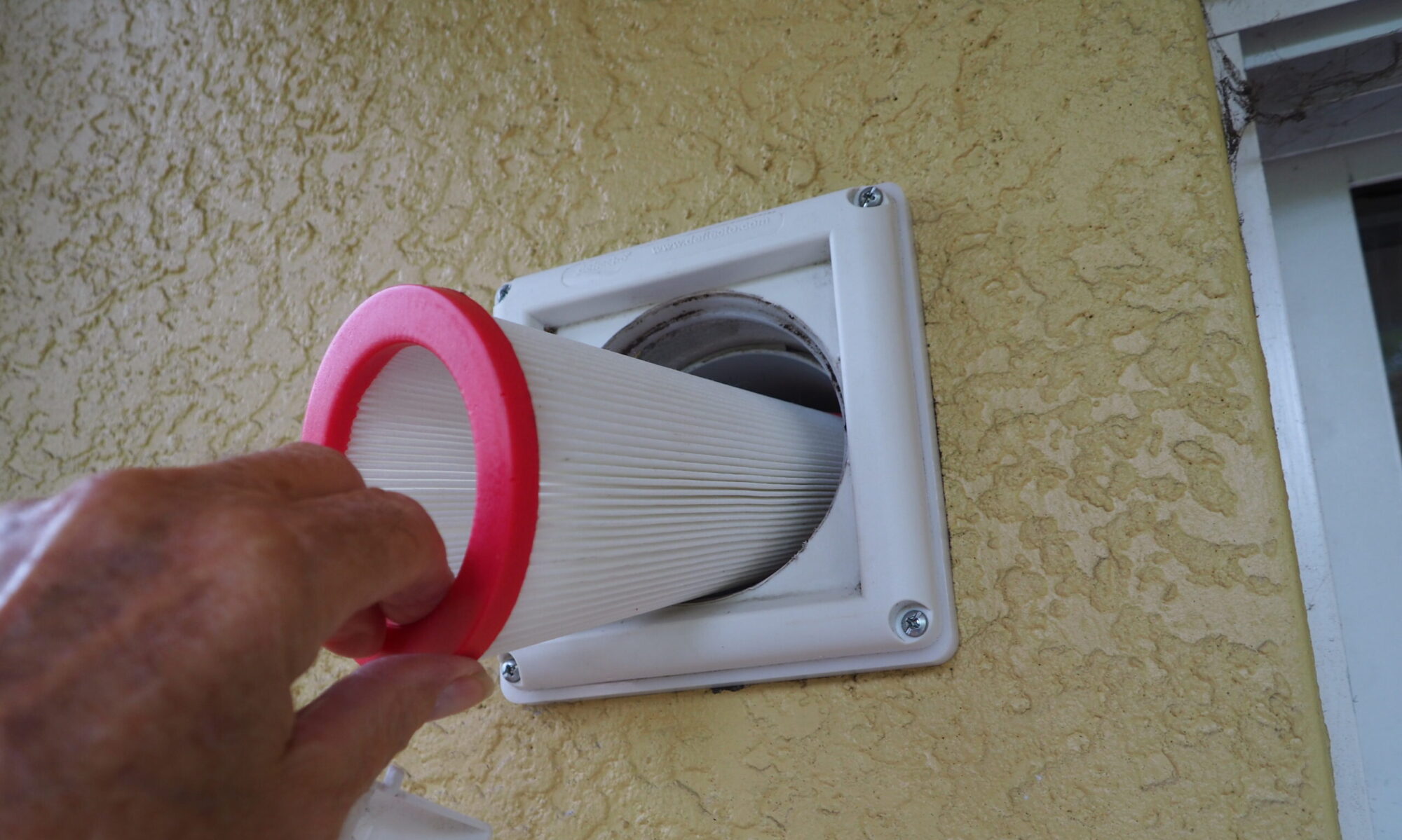 To our knowledge, we stand out as the only radon folks who went to the trouble and expense of developing and manufacturing a high-performance filtration system to keep the bad stuff out of  your breathing zone and out of your family member's lungs, blood stream, heart, bone marrow and brains. 
And our Type III filters are good for 18-24 months. They don't need to be removed, hand washed, and reinstalled every 60-90 days like homemade filters.
Your Family's Protection From Moisture And Mold Has Motivated Us To Develop Our Own Master Control Panel
We provide you with a Humidity Controller/Master Control Panel to keep your humidity low, to prevent mold, and to avoid the need to install a dehumidifier later.  It will reduce the load on your air conditioner too.
The humidity controller measures indoor relative humidity second-by-second, and if it rises above 59.9%, within 1-2 seconds it suspends radon system operation for a few seconds, minutes, or longer as necessary.
We spent years and thousands of dollars in the development of this instrument to prevent mold in this hot, humid climate.
Nobody Else Has it. . . NOBODY has invested the time, effort, and money to give you this protection . . . NOBODY
Are You Glad That We Did It?
To our knowledge, we stand out as the only radon folks who went to the trouble and expense of developing and manufacturing a master control panel that will prevent indoor relative humidity from rising above 59.9% from radon mitigation system operation, to prevent mold and reduce the load on your air conditioner.
Are You Glad That We Did It?
Our Master Control Panel Has Two More Features That You Will Like.
How Much Filtered Fresh Air Is Your System Providing?
We include a digital meter to advise you of approximately how many cubic feet per minute of filtered fresh air that  your system is delivering into your breathing zone. This system is delivering about 21 cfm of filtered outdoor air, and indoor relative humidity is below 59.9%.
Are You Glad That You Can Know That?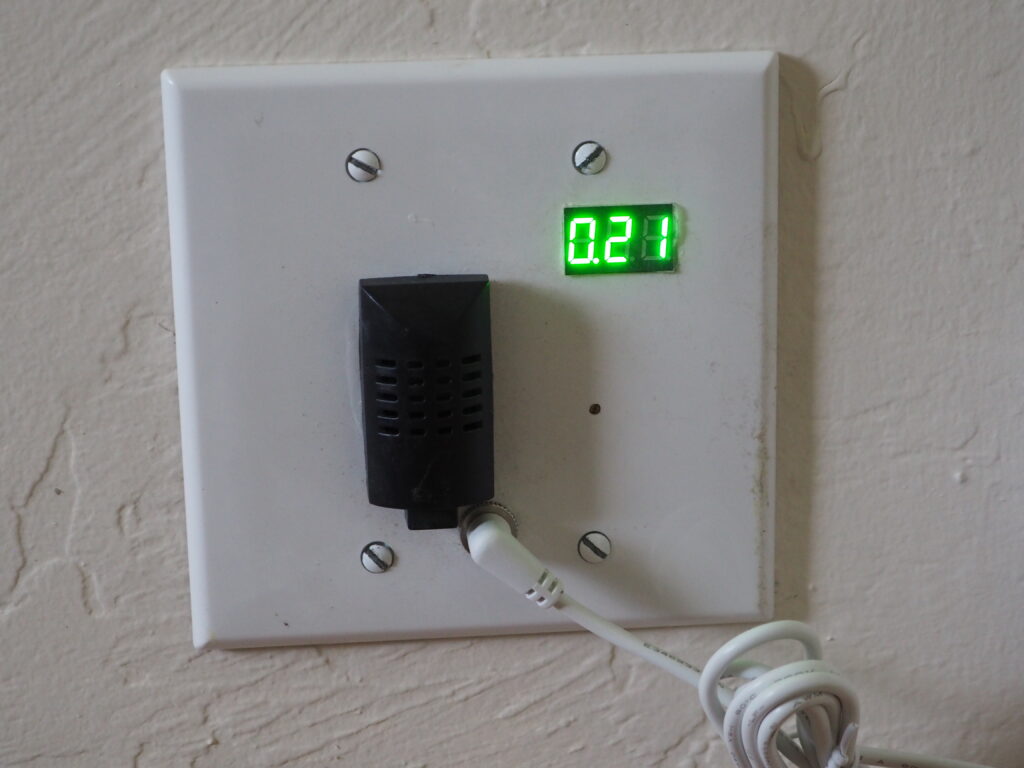 How Can You Adjust Your Average Radon Level?
You may adjust radon reduction performance with a jeweler's screwdriver. Turning the small brass screw clockwise will increase CFM and the meter reading will increase. After a day,  your radon meter will show the lower radon level. The accurate and reliable radon meter we provide will allow you to have confidence that your adjustment is correct, month after month, year after year. This system has been adjusted to show you that it can deliver about 70 cubic feet per minute if you like.
Are You Glad That You Can Adjust Your Radon Level To Suit You?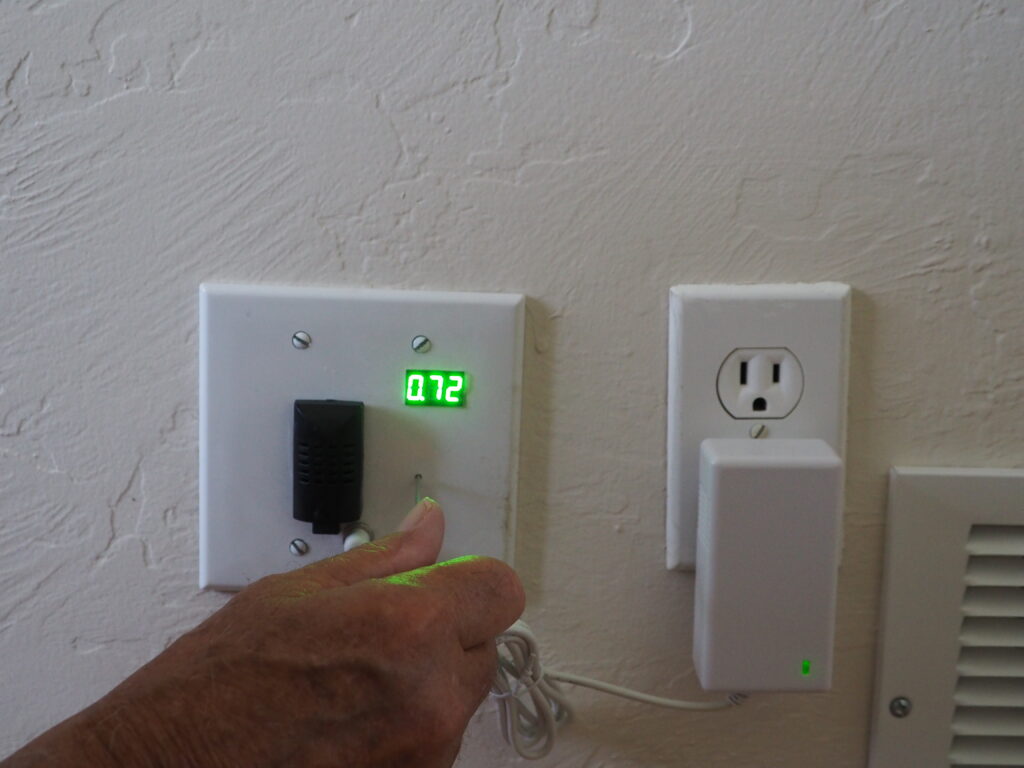 To our knowledge, we stand out as the only radon folks who went to the trouble and expense of developing and manufacturing a master control panel that makes the radon level super-easy to adjust and also provides an indication of how many cfm of filtered outdoor air your system is delivering into your breathing zone.
Radon Mitigation 2.0: The Next Generation
This is the Affordable Daisy Ductless Radon Mitigation Module I have perfected. It has been well-tested and has proven to deliver the Super-Reliable, Affordable radon mitigation results our clients want.  
Daisy Ductless Affordable Radon Mitigation 2.0:
Simple Plug 'N Play design for quick, easy installation and service. It ALWAYS works
Minimal resident disturbance. Requires only a single intrusion of fewer than two hours, in and out the door. 
Super-clean installation

without

any construction, drywall, dust, duct installation, electrical wiring work, or painting. 
Delivers highly filtered, oxygen-rich outdoor air at the exact, adjustable, rate necessary for that particular dwelling unit (jeweler's screwdriver adjustable)
Easy filter service in two minutes from outdoors every 18-48 months. (From indoors on upper floors)  (maintenance loves it)  
Fully automatic, electronic, mold prevention keeps the residence dry to make a dehumidifier unnecessary, even in Florida's hot, humid climate
Integral, quiet, salt-spray protected, variable speed fan for 100,000-hour durability 
Integral, concealed digital meter for easy, 30-second, annual performance check and adjustment
All parts are available online for easy Plug 'N Play service by any handyperson
SmartVentilation systems are installed by RadonRESSQ, LLC.  – Real Estate Support Services Quick, A Florida Certified Radon Mitigation Business.
The Daisy Ductless is installed into a port that is precisely line-bored by SmartVentilation's Blue Boar air-cooled diamond core drilling rig, designed by Wayne Dean and manufactured by SmartVentilation, Inc. The Blue Boar port is ingeniously bored from indoors (on any floor) for a perfect fit of the Daisy Ductless without any restoration whatsoever. Not even a drop of paint
All drywall and concrete cuttings are captured by air conveyance into an airtight cyclonic particle separator and collection system designed by Wayne Dean and manufactured by SmartVentilation, Inc. No particles or dust escapes, no cleanup. Nice.
SSD Systems in South Florida
Florida Apartment Complex Owners and Lenders are sometimes surprised when old 1990s technology SSD and mechanical ventilation radon mitigation systems that had been installed did not work.  Sometimes they created serious mold issues. And occasionally they were never made to work as intended.
When we installed SSD systems in South Florida, often they did not reduce radon much, sometimes not at all. SSD more often worked well around Ocala and north. But beware expansive soils subject to wetting and drying. Around Gainesville, SSD can dry the soil, and as the soil shrinks and expands, it can forcefully stress a  home's foundation and open cracks in the slab. We have successfully mitigated homes directly above caves in Gainesville (Karst topography) that presented new issues requiring careful sealing.
So What Happened When SSD Systems Failed to Reduce Radon?
When SSD failed to work, mitigators turned to fresh air systems to dilute radon and to pressurize the breathing zone to drive radon out through the same cracks where it had been entering.
I  have never liked the old 1990s radon mitigation mechanical ventilation technology that used single speed fans and table lamp timers in an effort to prevent mold and homemade air intake filters that needed to be hand washed every 60-90 days from the top of a stepladder, and blue oil-filled manometers to tell the occupants that things were working . .  even when they weren't.  Silent and usually out of sight and unseen. And usually failing to reveal the truth, that "the system" was no longer reducing radon.

While many mitigators have been and are still using the old "Hey, I can do that, too" technology from the 1990s, I have been busy finding better ways. And after years of R&D spent learning what does and what does not work, and expending many tens of thousands of dollars developing hardware and electronic products that disappointed me, I now have the products and tools we (my customers and myself) love on SmartVentilation's warehouse shelves, ready to use and ready for installation.
Intensive R&D coupled with the discipline and energy to follow through with design, manufacture, testing, and financial commitment to deliver unique, specialized products makes the difference
We are confident that you will agree that, "SmartVentilation's R&D has paid off." SmartVentilation technology is Different, and it is Clearly Better than 1990s "Hey, I can do that, too," technology in every way. FACT: I made a nice improvement in our Mold-Preventing Humidity Controller for Apartments on September 4, 2022. Apartment Complex Owners and Lenders are going to love it.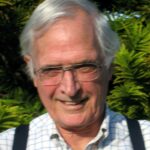 You can call or text Wayne Right Now
239 571 2227
More than likely, he will Answer your call and carefully Listen to your Issues.
Instead of trying to sell you something
You will learn and be glad that you called
He Loves His Work. It Shows

We Have Mitigated Radon Emissions in Thousands of Buildings and Homes From Three Sources:
From Building Materials

From the Soil Under the Slab

From Building "Radon Reservoirs" where Radon-Rich Gas Accumulates
Radon Mitigation 2.0 is Performed By:
Pressurization and Dilution with highly filtered outdoor air
Active Soil Depressurization
Radon Extraction Directly From "Radon Reservoirs"
Sealing of "Radon Fountains"
SmartVentilation Radon Mitigation 2.0 Installations are Performed By a Florida Certified Radon Mitigation Business, RadonRESSQ, LLC

RADON MITIGATION 2.0 Advancements Come From Our Continuous R&D Program. We constantly seek
to improve Radon Mitigation System performance
to eliminate unintended adverse consequences
We have mitigated homes in Lakeland that had so much radium and uranium in the soil that gamma radiation exposure exceeded the safe level limit unless a person was walking on a "radiation shield" sidewalk or inside a home with a thick "radiation shield" concrete slab.
At one location near Ocala, outdoor radon was not the usual 1.3 – 1.6 picoCuries per liter. It was in the high teens, outdoors. Radon was being emitted from the Bone Valley and Hawthorne formations laid down from south of Naples up toward Jacksonville and west toward and through Tallahassee, passing through Ocala and Gainesville. Both were laid down by dying sea creatures and plants that had accumulated radon in their bodies about 25 million years ago when most of Florida was at the bottom of the Gulf of Mexico. At that time, most of Florida was underwater except for the Lake Wales Ridge which was like an island. And that is why radon is so common in Florida. Plant and animal life were concentrating radium in their bodies, dying and creating radioactive, radon-bearing horizons commonly six to eight feet thick. In some places, those radioactive layers are at the surface of the soil and in direct contact with the bottom of the concrete slab. But careful slab sealing will block radon entry into a finished home.
Curiously, the preferred locations for the construction of a home are the ones most likely to have radon issues.
In south Florida, we learned that when a subdivision was created that included dug lakes, radon-bearing soil from the Bone Valley and Hawthorne formations was commonly excavated and used to build pads upon which floor slabs of new homes were placed. Those homes more often had radon issues despite the fact that we observed that the design and construction of the homes were even better than most other homes.
The highest radon level we ever mitigated in south Florida was in a 23rd-floor penthouse in Naples, nearly 35 picoCuries per liter. It took us nearly two months of sophisticated micro pressure and unintentional airflow, temperature, and relative humidity computer data logging, testing, and toil. But we found the hidden air conditioning installation defect, repaired it and found and sealed the radon entry points. The couple had been at their wit's end. He advised us that we were the sixth firm that tried to make the radon go away. What a celebration.
1. We Perfected 2.0 Fresh Air Filter Design/Maintenance
1. We Perfected and Manufacture Our 2.0 Filter Design to Meet All Codes, Standards and Recommendations (The only one that does)
2. We Perfected and Manufacture Our Mold Prevention Controller 2.0 for Automatic, Electronic Humidity Control
3. We Perfected and Manufacture Our EZ Radon Level Adjustment Electronic Controller 2.0
4. What is a Warranty Worth If You Don't Even Know Your System Has Failed?
Radon Mitigation 2.0 Includes a Digital Radon Meter
Integral audible alarm
No batteries to go dead and corrode
No Guessing (Systems Do Fail)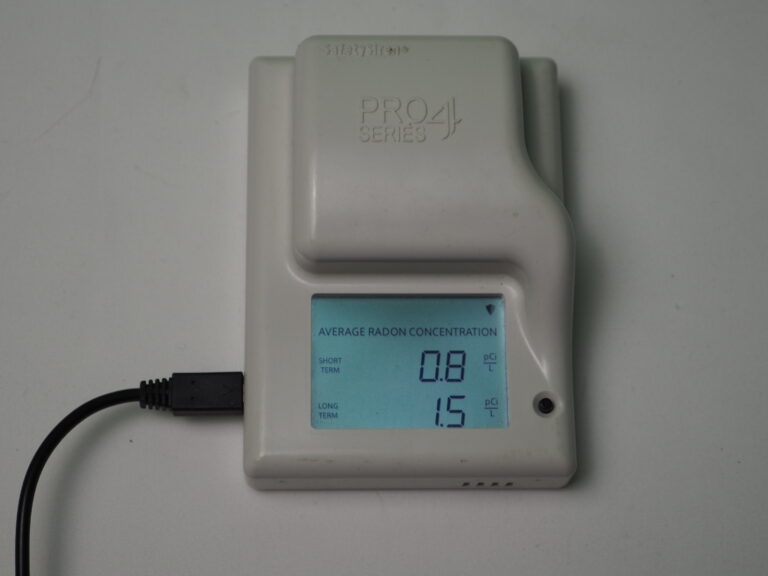 A Competitor's Radon System Failure Alarm.
 This Radon Mitigation 1.0 system failed many years before, but nobody knew. The switch and the meter were behind a closed metal door that was rarely opened.
Florida Products Liability Law Tolls the Statute of Limitations until the defect is discovered, so the owner might be able to sue the mitigator even 20 years later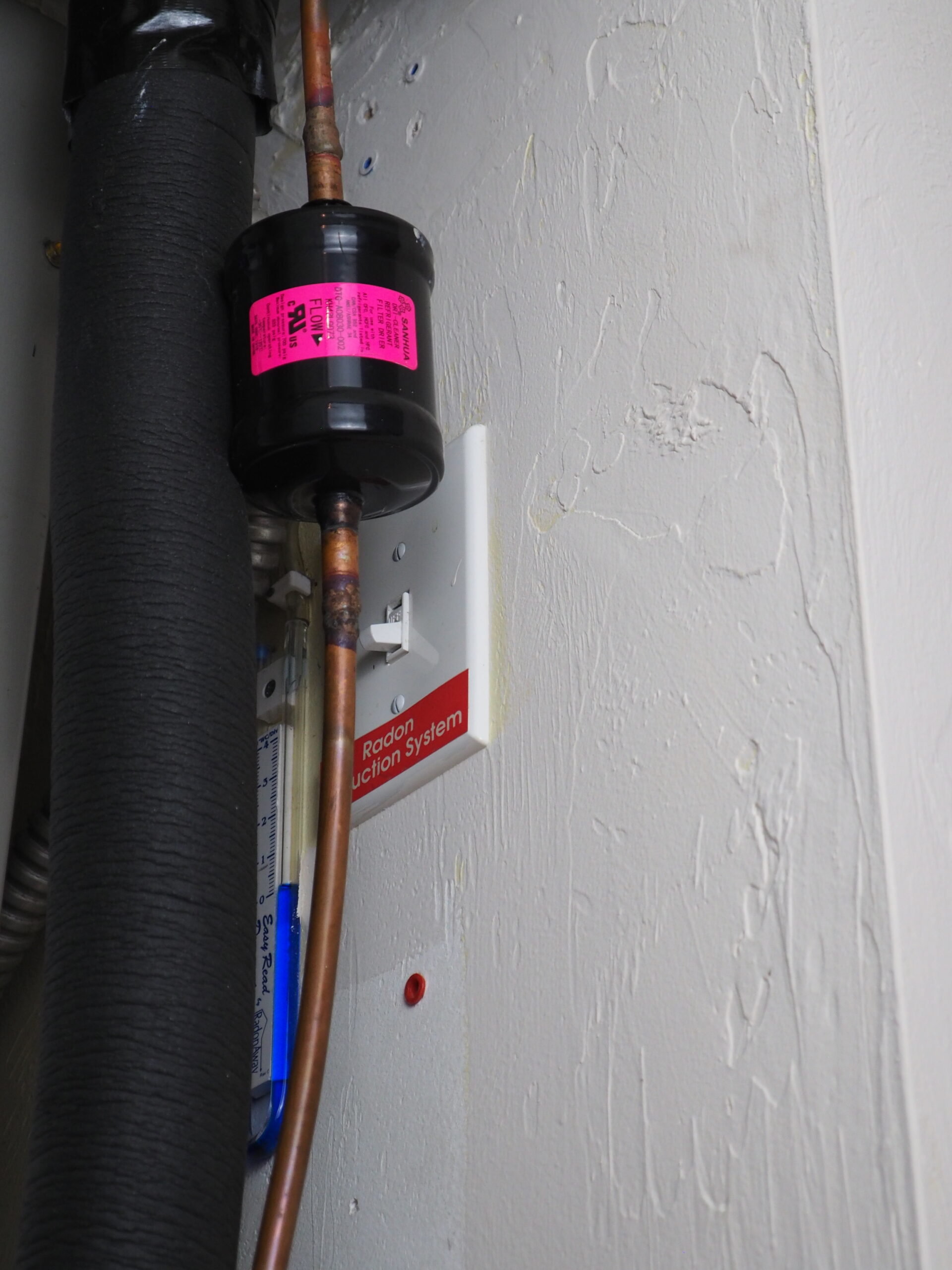 We Share Your Concern for Your Family's Safety and Health.
Our 2.0 Products Reflect Our Dedication.
So, If you prefer RadonMitigation 2.0, You can  have it right now
Our R&D can and will  Pay Off By:
AutoPilot Automatic/Robotic Operation
Mitigating Radon without unpleasant surprises

Improving Your Family's Good Health and Comfort 
Enhancing your home's Fair Market Value (Making It Worth More)
Reducing your home's Time On The Market when you choose to sell it.
Adding Unexpected and Substantial Benefits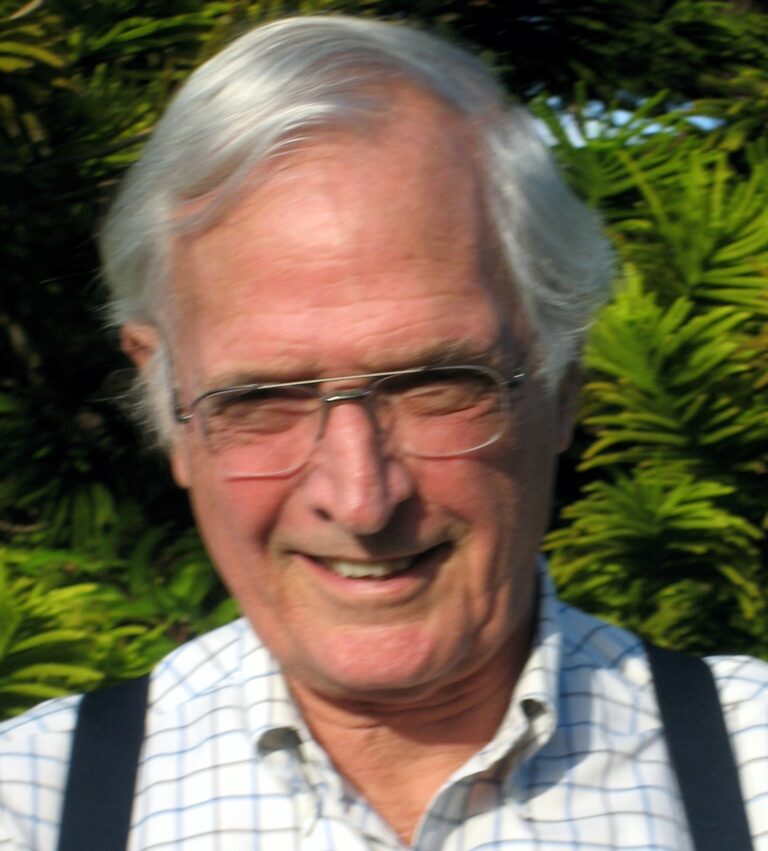 This guy is truly passionate about his work. Call  him 239 571-2227. He answers his phone
Your long term,

continuing

safety and comfort are our highest priorities
SmartVentilation/RadonRESSQ can make RADON go away with all sorts of wonderful extra benefits to keep your family healthy, safe, and comfortable. AND to increase the FMV of your home.
In our R&D We have developed, tested, proven and now manufacture products that WORK to make your new home's indoor air quality SUPERB! Nobody else has them because it is so much work to develop them, and no one else went to the trouble.

This is Why We Developed Our Own 2.0 Air Intake Filter Instead of using the Radon Mitigation 1.0 Filter Other Mitigators Use
This is the 2.0 Retrofit We Designed, Tested and Manufactured to Replace 1.0 "Fluff" Filters
Fresh Air: 2.0 Super-Cleaned
SmartVentilation Type III , N95-equivalent filter removes the bad stuff to keep your family safe from outdoor pollen, mold spores, PM2.5, bacteria, viruses, red tide and blue green algae neuro toxins. MERV 14-15, for 18-24 months without service. This filter is the equivalent of a large N-95 face mask that can super-clean all of the air entering your home. (If you keep your doors a windows closed) During pollen season, asthma and allergy sufferers will find your home to be a remarkable "Sanctuary of Relief."
Master Control Panel
SmartVentilation's 2.0 Master Control Panel makes it easy to take charge of the Air that your Family Breathes for Reduced allergy and asthma triggers, Improved Cognitive Function,  Sleep and Sense of Well-being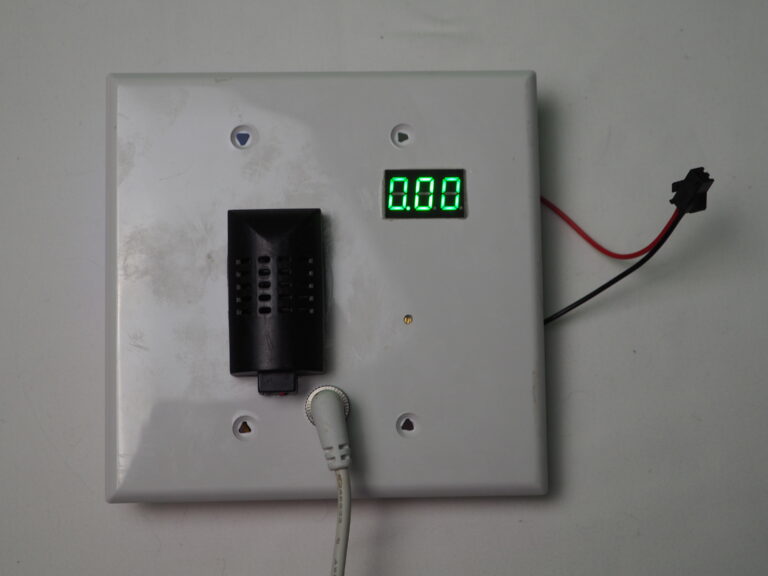 2.0 Robotic / AutoPilot Mold Prevention
The Master Control Panel senses indoor humidity second-by-second. If it rises above  a precise 59.9%, fresh air system operation is suspended within 1-2 seconds to allow the air conditioner to complete dehumidification or outdoor air to drop from peak humidity levels. RESULT?  No mold worries from hot,  humid fresh air. When relative humidity drops below 59.9% system operation is restored within 1-2 seconds. SmartVentilation AutoPilot Technology makes new dehumidifier installations unnecessary.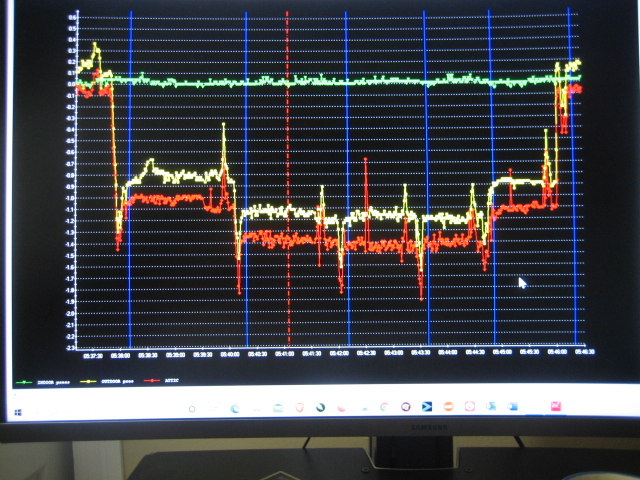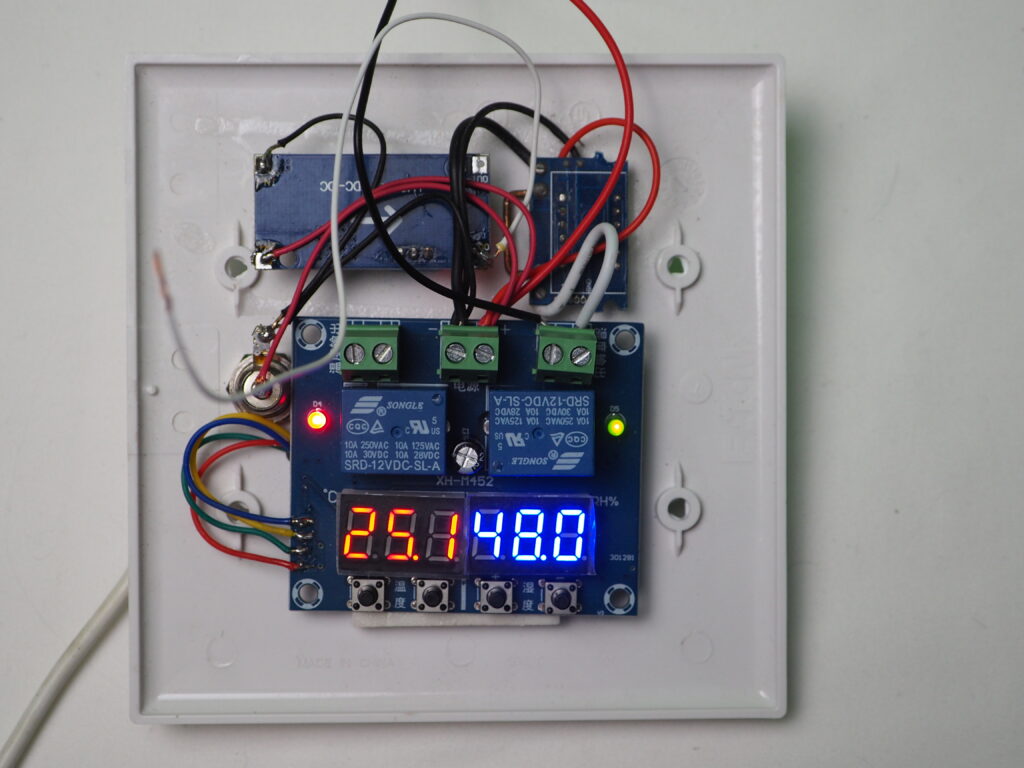 2.0 Adjustable Radon Level
The Master Control Panel includes a Radon Level Controller that allows an individual to adjust the radon level in seconds with only a jeweler's screwdriver. Over time and seasons, radon levels may change. Adjustment is simple, quick and effective. The digital meter reveals the number of cubic feet per minute that the system is delivering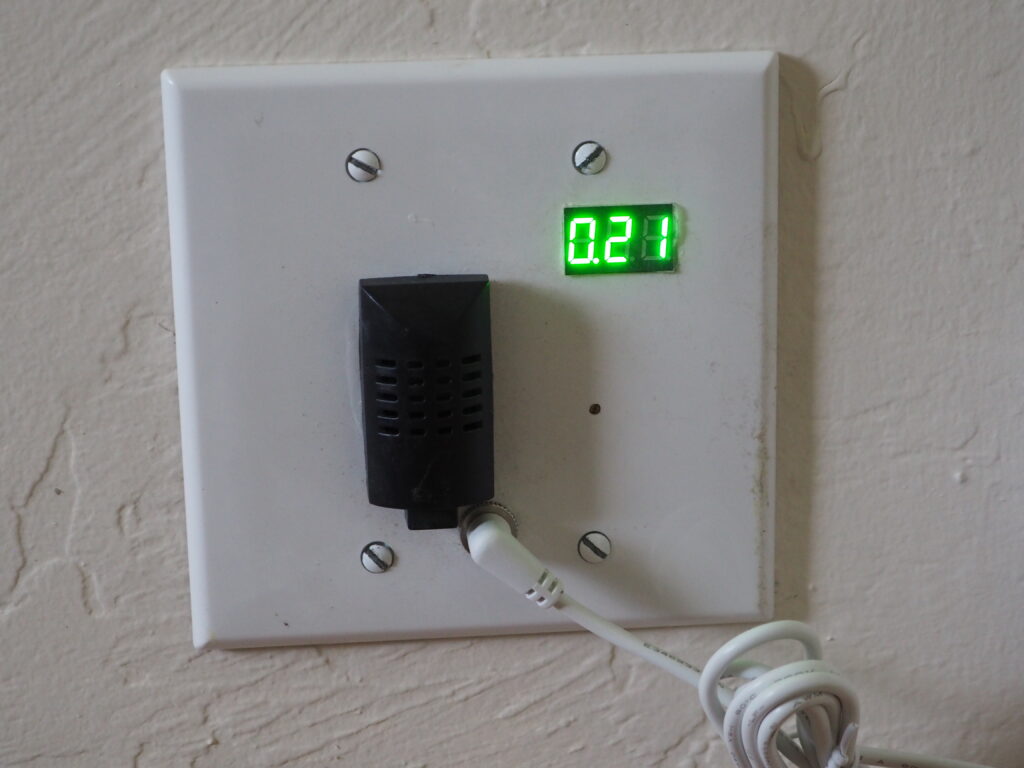 Even the most generous warranty is worthless if you do not know that your radon system has failed.
Radon Meter With Audible Alarm
As a bonus, we provide a reliable, fourth-generation, American-made electronic radon meter with an audible alarm so that if our system fails, you will know it  immediately. After all, what is a warranty worth if you don't know to call for repairs?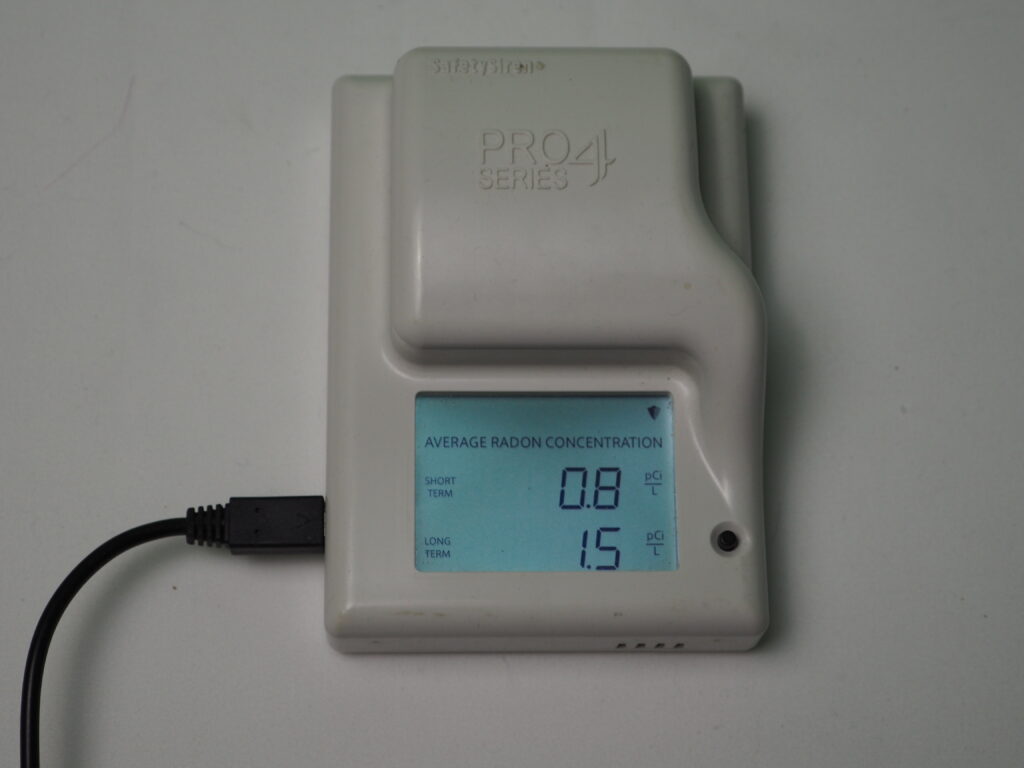 PLUG 'N PLAY: SmartVentilation's 2.0 products are designed to be Plug 'n Play so that almost anyone can service our systems in minutes.
We designed, tested and manufacture the following EXCLUSIVE SmartVentilation 2.0 Products for both high and low rise buildings
A fully automatic electronic indoor relative humidity controller to oversee radon system operation and to prevent High Indoor Relative Humidity and Mold from radon system operation
Custom

Variable Speed Air Delivery Fans

that  may be tuned to deliver a precisely correct rate of fresh air to avoid the tragic over-ventilation of single-speed fans
Custom, long life and high performance air filters to keep the bad stuff out of your lungs, even better than the filter that cleans the air that your car's engine inhales. Good for 18-24  months.
An

electronic Radon Level controller

to allow you to adjust your radon level in seconds with a jeweler's screwdriver
A

digital performance meter

to allow you to adjust your radon level with precision
A Blue Boar rig to allow fresh air ports to be created from indoors even on upper floors of high rise condo buildings
The Daisy Deuce fresh air/filtration module easily installed on any floor and meets all Codes and Standards including filter service from indoors
We Found That Radon Is Emitted From Poured Concrete, Hollow Concrete Blocks, Even Some Drywall Material as well as Out of the Ground
Not only is Radon found in ground floor homes, but Radon finds and contaminates upper floors, too. On upper floors, the most frequent source is the porous concrete blocks used in the construction of exterior (curtain) walls. Upper floors may even have higher radon levels than the ground floor. We have found that air conditioner installation defects on upper floors can unintentionally "seek out and mine" more radon from "Radon Reservoirs" in other parts of a building.  But in some buildings, unintentional radon pathways exist and deliver much more radon to one dwelling unit than to any other, even though they may be side-by-side. We have developed "Radon Extraction" Hardware to extract radon directly to the out of doors. In August, 2019, Wayne made two Radon Extraction Presentations to AARST's International Radon Symposium in Denver.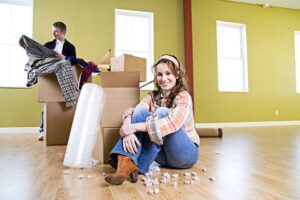 "Our new home is on the 13th floor. Our home inspector suggested we test for radon anyway. We did. Radon was 6.3, well over the USEPA Action Level. We got it fixed. Our Home Inspector is our Hero."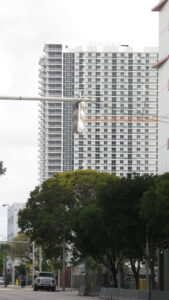 Daisy Ductless Technology Mitigates Radon emitted from building materials from first to top floor penthouses of residential multihousing. 
The highest radon we ever mitigated in south Florida was in a 23rd floor penthouse of a high rise condo building on Pelican Bay Boulevard, Naples, FL-  nearly 35 picoCuries per liter. We fixed it. It was not easy.
Radon Reduction occurs by Pressurization of the Breathing Zone and Dilution within a unit's Breathing Zone. Radon Extraction removes radon from "Radon Reservoirs" where Radon accumulates within the building's recesses, voids and cavities, and from which it may be transported into the breathing zone by unintentional air flows created by air handler operation.
Radon Mitigation Issues That We Have Identified and Resolved:
How may an air intake port be bored through an exterior wall without outdoor access? (upper floors) and without creating new construction, requiring cleanup or requiring restoration? SOLUTION? The Blue Boar Precision Port-Boring Rig and Cuttings Capture System
How may fresh air mitigation be performed without involving a slow and problematic permitting process? Miami/Dade? SOLVED: Engineer the technology to avoid the need for a permit to keep things quick and simple.


Do not penetrate the roof to avoid need for a roofing permit
Do not connect to an air conditioner to avoid need for a mechanical permit
Do not connect to plumbing to avoid need for a plumbing permit
Do not penetrate through a structural component to avoid need for an engineer
Use low voltage plug-in power to avoid need for an electrical permit.

How can a MERV 13 (suggested by US EPA) or better (MERV 14-15) fresh air filter be easily serviced/replaced from indoors as required by ASHRAE Standard 62.2-2019? SOLVED: We designed and manufacture a custom air filtration system that meets all requirements.


How can high humidity and mold be prevented automatically 24/7/365? SOLVED: We designed and manufacture a reliable and automatic relative humidity controller.


How can radon reduction be adjusted to achieve the desired radon reduction without guesses that often create over-ventilation/moisture issues? SOLVED: We designed and manufactured a custom master control panel that provides control and a digital performance meter.
How can a radon mitigation system be designed to be serviced or totally replaced in minutes with a new or rebuilt module by most any handy person? SOLVED: We engineered the entire system to be of Plug 'n Play Simplicity.